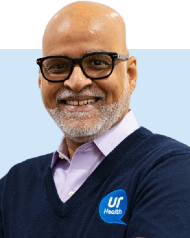 Ravi brings a unique mixture of business acumen and technical expertise from the information technology industry to lead Ventech Solutions. Ravi is our visionary leader and is responsible for our corporate strategies, innovation, globalization, partnerships, marketing and our unique company culture.
Throughout his entire career Ravi has applied best practices of being a successful entrepreneur and has achieved flourishing success since starting his first company at the age of 19.
As a proud First Servant of Ventech Solutions, Ravi leads our People First, Servant Leadership culture by example. His passion and support for our team's successes and our customers' satisfaction has earned Ventech Solutions numerous awards and elevated it to be a major thought leader in the technology and healthcare industry.
Ravi's attitude toward our company goals starts with his message to us, "The best way to create a future is by making one!"
To achieve Ventech Solutions' goal of becoming a trusted global healthcare leader, Ravi is also CEO of QurHealth Solutions, a Ventech Solutions company with a mission of "saving lives super proactively." QurHealth offers intellectual property-led health-tech platform solutions focused on enterprise data, voice AI, IoT and other emerging technologies. 
A father of two and a devoted husband, Ravi mentors a lot of youth and adults in the community. In addition to being a founding trustee of Kunduru Foundation, he is also actively involved in several philanthropic initiatives globally. 
Ravi earned a bachelor's degree in Computer Science Engineering from the University of Madras.