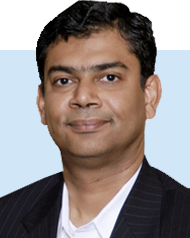 COLUMBUS, Ohio, June 27, 2019 – Ventech Solutions' Chief Investment Officer, Dr. DJ Nag, has been named to the IAM Strategy 300: The World's Leading IP Strategists. The IAM 300 list identifies individuals who are leading the way in the development and implementation of strategies that maximize the value of IP portfolios.
Candidates from North America, Europe and Asia had to receive multiple nominations from outside their organization to make the IAM Strategy 300 list. The process also involved extensive interviews and analysis of their contributions in order to be selected.
Nag has more than 15 years of leadership as an IP strategist and advisor, including support to Fortune 100 companies and top global organizations. He has created more than 70 start-ups, licensed hundreds of technologies from universities and held leadership roles in new IP marketplaces like IPXI, Patent Properties and Ocean Tomo Auctions.
"It's truly an honor to be recognized as one of the top IP leaders in the world by fellow experts in the industry. With my passion for IP and innovation, I'm always looking to create new ways to monetize IP that we can bring to market." said Nag. "At Ventech Solutions through our Ventech Ventures group, we are paving the way to incubate, accelerate and commercialize healthcare technologies that are using artificial intelligence and machine learning."
About DJ Nag, Ph.D.
Dr. DJ Nag is the Chief Investment Officer at Ventech Solutions and leads the Ventech Ventures team in developing new IP solutions. Nag works with universities, federal labs and global research organizations to collaborate and invest in new ventures.
Prior to joining Ventech Solutions, he successfully led technology transfer at The Ohio State University, Rutgers University and University of Nebraska-Lincoln. He is credited for creating more than 70 start-ups and successfully licensing hundreds of technologies. DJ also served as the Director at Ocean Tomo and was on the Board of Association of University Technology Managers and the Board of Standards Development Organization, a Licensing Executive Society initiative. He currently teaches as adjunct faculty at Rutgers University and visiting professor at Shizuoka University.
DJ holds a doctorate as well as a master's degree in biophysical chemistry and an MBA from the University of Nebraska-Lincoln.
About Ventech Solutions
Ventech Solutions is a healthcare solutions provider with deep expertise in end-to-end information technology life cycles and data solutions. Across its offices, teams combine passion, experience and technical expertise with superior process and delivery knowledge to provide high-quality IT products and services that align with our key strength areas. Ventech Solutions proudly provides mission-critical initiatives for the U.S. government. For more information, visit www.ventechsolutions.com.
Media Contacts
For more information, contact Tania Shammas at 410.862.0123 ext. 434 or tania.shammas@ventechsolutions.com.