Ventech Solutions, Inc., the world's first CMMI Maturity Level 5 (v 1.2) software company, has received a 2008 Governor's Excellence in Exporting Award for its success in exporting software from Ohio to Asia.
Ventech Solutions Founder and CEO Ravi Kunduru accepted the award from Ohio Governor Ted Strickland and Lt. Governor Lee Fisher at the Ohio Statehouse Atrium in Columbus. The only Information Technology company among 24 award recipients, Ventech was recognized for success in exporting its CenterPoint™ and Gateway™ educational software, which has been contracted to be used by many educational institutions including India's third-largest school system connecting nearly 600 schools and is expected to have more than 1.2 million users by 2010.
Since 1986 the Governor's Excellence in Exporting Awards Program has recognized companies and organizations of all sizes that have shown superior performance in exporting or heightened awareness of exporting as a vital component of the state's economy.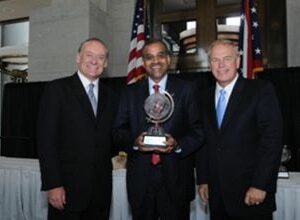 Source: http://www.prweb.com/releases/CMMI/Award/prweb1161784.html