September, 2020
Ventech Solutions is proud to announce that it has selected to pursue a technology product idea pitched by members of its Ventech Youth Innovation Team (VYIT).
Earlier this month, the VYIT presented two product ideas to a panel of judges as part of the annual event. Our VYIT program brings together students who are interested in innovation and entrepreneurship and gives them a platform where they learn to create ideas for potential intellectual property. The youth innovators work toward the goal of turning their concepts into real-life products with the hopes that Ventech Solutions will invest in their ideas for a percentage share.
We were honored to have Dr. Jack Fette, Chief Academic Officer of Olentangy Local School District as one of our special guest judges.
"VYIT is an example of what makes Olentangy special," said Dr. Fette. "We talk about cultivating students who are Purposeful, Resilient, Curious and Kind. VYIT fosters each of those attributes by providing an environment for students to take their best ideas and make them better through collaboration with peers and professionals. During this most recent round of final presentations, I told the student participants how impressed I was by their work because they took what they've learned in Olentangy and made it into something that can have a broad impact on others. We want all our students to be lifelong learners and the young people in VYIT are getting a head start."
The students worked together over the academic year to develop the two concepts. Starting with more than 20 ideas, they then narrowed it down to two which they would present. One focused on safety in schools and the second geared toward the health and wellness category.
"The judges and I were so impressed with how the students developed solutions that provide real impact and value to our society" said Ravi Kunduru, President and CEO of Ventech Solutions. "We are excited about the potential and are committed to championing their ideas forward and helping them achieve success."
Elements of the presentation include market research, analysis, sales and marketing strategy and branding. The process provides the participants with hands-on experience on the various stages of research and innovation. Following the presentations, the judges provided the presenters with valuable feedback that will help them take these concepts to the next level of development.
Ventech Solutions selected one of the ideas which is around school transportation and safety which the company along with the VYIT members will pursue as a product that could potentially go to market.
"This team has exceeded expectations for this term, and they are proudly the first team to get funding by Ventech Solutions," said Rohan Kunduru, VYIT Program Manager. "After four years of looking for a great idea, this team has come up with a phenomenal idea that could change the school transportation experience forever."
In addition to Dr. Fette, judges from Ventech Solutions included Ravi Kunduru, President and Chief Executive Officer, Dr. DJ Nag, Chief Partnership Officer and Tania Shammas, Marketing and Communications Lead.
To learn more about the Ventech Youth Innovation Team, visit the website.
VYIT Team Takeaways:
Rishika Gorai, 16: "It feels amazing to have co-founded an idea that will be funded by Ventech for the first time. These past six months have been an exceptional experience where I have met many amazing people."
Rushil Lingichetty, 16: "It has been an honor to be a part of VYIT in 2020. I am very grateful for the resources and mentoring provided by the VYIT and Ventech Solutions team."
Srikar Maduposu, 16: "This has been a great experience working with everyone that was a part of VYIT and especially this team who I feel will positively impact the community."
Siddhartha Paruchuri, 16: "I've had an unbelievable time in the VYIT 2020 term. It feels great to do something that a lot of people in their entire lives don't get to accomplish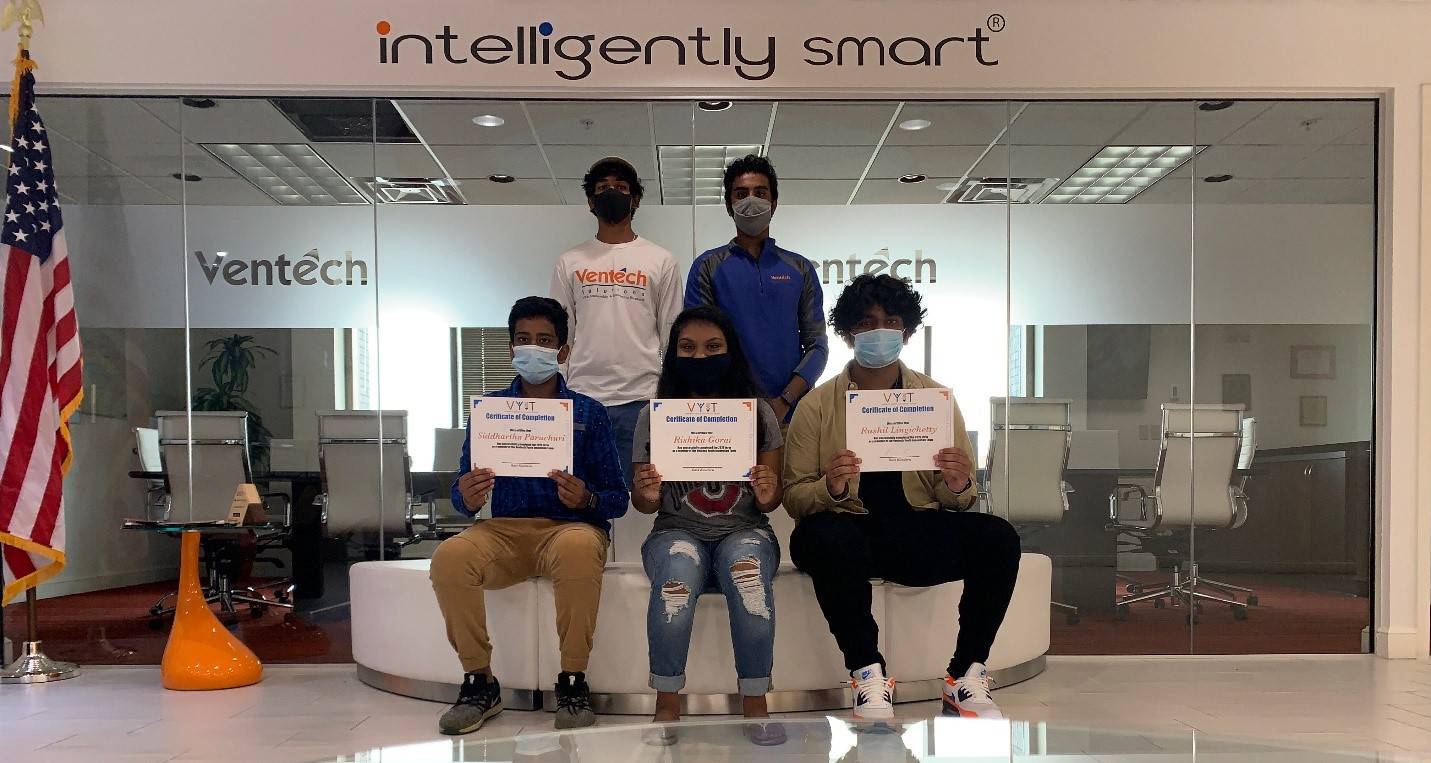 The 2020 VYIT members accept their certificates of completion for the year along with Team Lead Srikar Maduposu and VYIT Program Manager Rohan Kunduru.